The goal of sports photography is to capture the greatest movements and moments in the game. Sports photography conveys the activities and feelings of the players to the audience. A competent sports photographer tells the narrative of the game to people who would not otherwise be present. If you are aspiring to become a sports photographer,  follow some of the world's most famous sports photographers who you can take inspiration from,  and understand how they work.
Famous Sports Photographers To Follow in 2023
Below we have shared 14 prominent sports photographers you can draw inspiration from while embarking on a new journey.
Chris Burkard is a well-known photographer and traveler from the United States. Throughout the year, he travels across the world taking landscape, lifestyle, surf, outdoor, and travel pictures. His photographs encourage people to connect with nature and untamed areas. Besides, his vision for wild landscapes gained him international acclaim. He was able to collaborate with Fortune 500 companies, talk on the TED platform, and write a variety of books aimed at teaching people.
Claudio Villa is a football photographer from Italy. He was the official photographer for the Italian national team throughout the Euro 2020 campaign. Claudio has a thorough understanding of the game as well as the personalities of the players and other staff. He captures on-the-field stories that inspire and encourage fans and followers all around the world to support their team. He can be considered one of the most famous sports photographers in the world.
Camilla Rutherford is a Scottish award-winning outdoor sports photographer. He earned a BA Honors degree in Design for Performance from Central Saint Martins College of Art & Design. Her overwhelming love for nature pushed her to the highlands of New Zealand, even though she was primarily interested in a career in drama.
Currently, she lives in Wanaka, New Zealand, where she married a high country sheep farmer and pursues her passion for outdoor photography, photographing snow, mountains, and athletes in action in nature. He's had the good fortune to work with several amazing organizations and magazines throughout the years.
Zak Noyle is one of the world's top surf photographers based in Oahu, Hawaii. He spends countless hours in water capturing the most dramatic and adventurous actions in the ocean environment. His father, Ric Noyle, was also a seasoned commercial photographer who inspired him into photography at a young age. While attending Punahou School, he became a state champion in swimming and was already a published photographer in ESPN, Sports Illustrated, Transworld Surf, and many more.
In 2010, Zak became the senior staff photographer of the nationally distributed Surfer Magazine where he continues his professional career today. His surf images appear in many high-profile magazines such as National Geographic, London Times, ESPN, and Surfer Magazine. 
Tristan Shu is a French photographer who specializes in outdoor sports, aerial, landscapes, interiors, portraits, and lifestyle. His photos are full of colors, light, and extreme action. Some of his works appeared in  National Geographic, Courrier International, Paris Match, The Times, GQ, Chasseur d'images. His client list ranges from Adidas to Uber.
Al Bello is a multi-talented sports photographer located in New York City. He began photographing while still in college. He started his career as a darkroom manager for the boxing magazine The Ring. Later, he joined Allsport Photo Agency, which was acquired by Getty Images in 1998. After joining Getty, his career took a new direction.
From 2004 until 2019, he was the main sports photographer for North America, where he collaborated with a team of highly skilled specialists. To date, AI has covered a variety of major events, including the 12 Olympic Games. He has received several honors for his photographic abilities and taught at various colleges and workshops.
Kiril Umrikhin is a Russian photographer who is adept in shooting action sports, outdoor and travel, different cultural/music/etc. Events. He is not just a typical photographer, he also manages a team of extremely talented athletes in Boardriders Russia. He is as much in sports photography as in other aspects like landscape and wildlife photography.
Since joining Onboard snowboarding magazine in 2004, his photos have been published in distinguished sports and glamour magazines worldwide. He also has an impressive list of clients including Apple, Adidas, Nissan, and Toyota. 
Russel Ord is one of the worlds' leading surf photographers who goes the extra mile to shoot unique, challenging, and awe-inspiring photos of the sea and surfers. His photos are deep in color and convey a feeling of impending danger to viewers. Though his main focus remains on ocean photography, he is currently expanding his abilities in areas such as tourism and marketing work. He also enjoys sharing his photography skills and experience with newcomers.
9. Cameron Look⎹  @koolmac
Cameron Look is the youngest star in the basketball photography industry. She has the vision to reshape the concept of digital sports photography. Cameron has collaborated with some of the most influential brands, athletes, and celebrities. She specializes in shooting for sports, concerts, lifestyle, music festivals, portraiture, and studios. She has a degree in Business Economics from UC Irvine and can give solutions where creative work and managerial abilities are needed.
10. Brad Mangin⎹  @bmangin
Brad Mangin is a freelance baseball sports photographer based in San Francisco Bay Area. He is intensely passionate about the game and community. To date, he has done eight cover shots for Sports Illustrated. His pictures depict the stories and emotions of the game. Brad is the author of several books about photography and baseball. Aside from photography, he enjoys speaking at seminars, colleges, and other venues. Brad enjoys playing with his cats, Mike and Willie, in his leisure time.
Patrick Smith is a staff photographer at Getty Images. He covers all kinds of sports events and travels all over the world to collect images used in and by leading daily newspapers, magazines, websites, major brands, professional sports leagues, and media outlets worldwide. He has got numerous accolades and awards for his notable works in sports photography and others. Patricks Smith can safely be considered one of the most famous sports photographers in the world.
Lucas Gilman is one of the leading adventure photographers and filmmakers currently residing in California. He covers wide varying subjects ranging from kayaking to surfing. His passion for adventure and an eye for colors enable him to capture unique styled photos. He regularly covers international events such as the Tour De France, Kentucky Derby, ESPN X-GAMES, IRONMAN®, and NFL Playoffs.
He also collaborates with advertising and editorial clients that span the globe including Land Rover, Nikon, SanDisk®, Red Bull, G-Technology, Garmin™, GORE-TEX® National Geographic, Sports Illustrated, ESPN Magazine, ESPN.com, and Outside Magazine.
Elsa Garrison is a well-known female sports photographer who presently resides in New York. She holds the distinction of being Getty Images' first female staff photographer. Elsa is well-known in the industry for her ability to capture game-defining moments. She often covers major athletic events across the world, such as the Olympics, World Series, Super Bowl, NBA Finals, US Open, FIFA World Cup, and NCAA Final Four.
She developed an interest in photography at a young age and began her first sports photography job while still in high school. Elsa is still pursuing her dream of recording some of the sports' most memorable moments.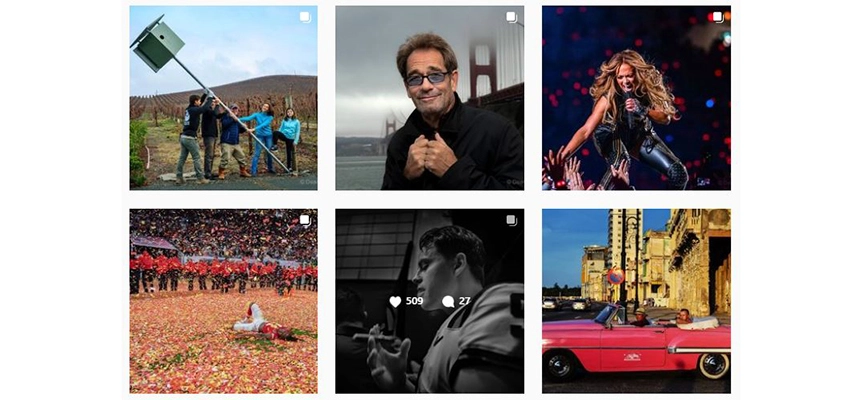 Deanne Fitz Maurice is a Pulitzer Prize-winning American sports action photographer and photojournalist. While Deanne is mainly famous for her photographic works involving humans and the environment, she also has a passion for sports. Her photography depicting a young Iraqi war victim named Saleh won him the prestigious Pulitzer Prize.
Deanne has in her portfolio some other major prizes in photography including Pictures of the Year International, AI-AP American Photograph, etc. She still shoots for some of the world-famous brands including Amazon, Apple, Nike, Google, and Facebook. While not capturing frames, Deanne spends time with his husband, managing their business Think Tank. 
You may also read– Guide to Stunning Event Photography. 
Conclusion
Sports photography is certainly one of the most exciting and rewarding genres of photography, but at the same time, it requires a lot of technical skills. The game moves very fast, and you must be ready to capture the moments or you will miss the actions forever. 
We hope our list of 14 famous sports photographers will motivate you to delve deeper into sports photography and make you ready for some great shots in the field.