What is reflective shadow and why do we use it?
A light and reflection shadow gives product a look as if your product was photographed on a reflective surface, like a glass mirror. Using Photoshop mirror shadows in product images can create a context for the customer and a subliminal impression of quality. It is a simple and effective image editing technique  that can benefit your e-Commerce store, catalog, brochure, magazine, reflect and printing industry.
The image editing activities related with industries mentioned earlier are growing day by day all over the world. If you are an entrepreneur and want to flourish your business through e-commerce site, then you must display your product image differently and attractively. Why? Because a creatively designed image has bigger chance to rank better in Google.com as well as it attracts the attention of the customer. Using stylist reflective shadow on e-commerce products, magazine and printing industry can differentiate you from your competitor.
What is essential for it?
1. Adobe Photoshop CS
2. Product image
What will we learn from here?
1. Using Adobe Photoshop pen tool for creating path.
2. Photoshop masking
3. Using Photoshop brush tool
4. How to create reflective shadow
Step-01
At first you have to open the image in Adobe Photoshop Software. Then select the pen tool and then create a new path from path palette.  Create outline 1 pixel inside around the shoe using pen tool.
Step-02
Select the shoe by holding down the Ctrl and click with path. To make your image edge smooth press Shift+F6 and apply 0.5 feather.

Step-03
To make reflection on the bottom extend canvas size wide top to bottom. For this you can follow this: Menu>image>canvas size. The width and height of the Canvas should be equal. Here we have copy the width value and paste it into height value section then press Enter.
Step-04
To create the duplicate layer, Press Ctrl + J twice to create two duplicate layers from background layer.
Step-05
To create vertically flipped shoe image press Ctrl+T and click right button on the transform mode and press the vertical flip.
Step-06
Now drag the image by leveling the bottom edge of the shoe.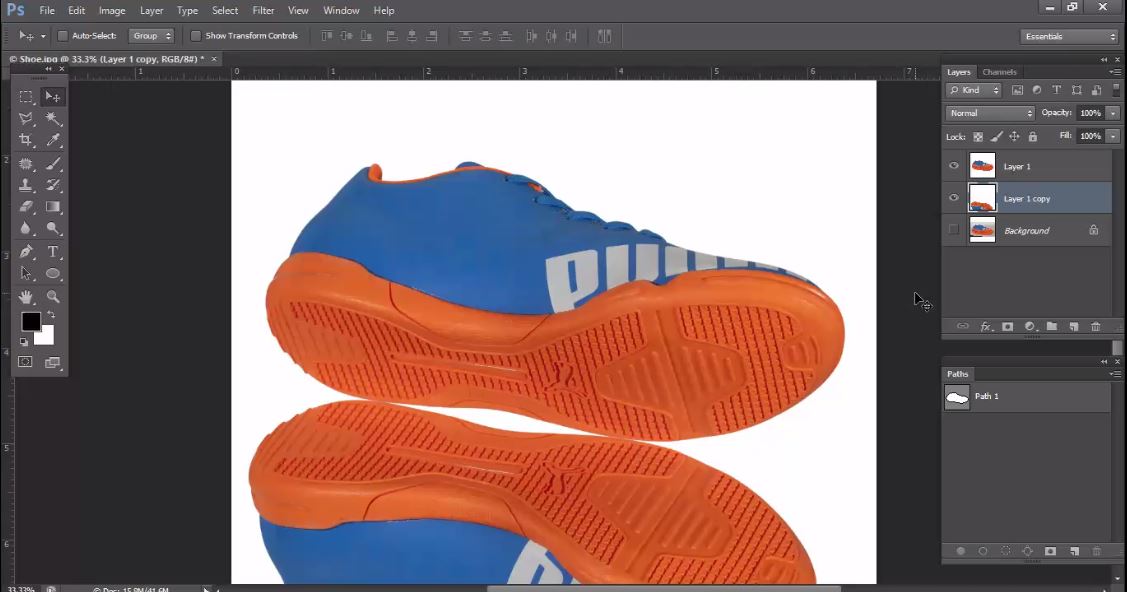 Step-07
Now apply mask on the bottom layer. Then from Tool Bar, select Gradient Tool>Sub Menu>Color. From Color option, select the top fill color black.
Step-08
Applying gradient mask on the bottom layer to fade out the reflective image gradually top to bottom
Also See Photoshop Video Tutorial-How to Make a Reflection Shadow Using Photoshop Part-1
This tutorial is prepared by Clipping Path India (CPI).
To be Continue Reflection Shadow tutorial part-2