Are you looking for newborn photoshoot ideas? Don't worry, we've got you covered!
Photoshoots with cute newborns are one of the best ways to get professional quality shots of your little one. Infants are often more cooperative during a photoshoot, therefore creating ultra-cute photos will not be a problem. As you start out with newborns, keep things easy and simple. You can use a baby-themed studio, and some background music so that the atmosphere is not disrupted by an adult voice or sound.
Newborn Photo Ideas to Try in 2022
Newborn Photoshoot Ideas are the most beautiful things in this world. So if you are thinking of having a newborn photoshoot with your little darling, here are some fresh ideas for your newborn shoot.
Remember pregnancy photoshoots? This idea is a take on that just post-pregnancy. It is one of the sweetest newborn Photoshoot ideas that showcase motherly love as she holds the baby in a fetal position just where her baby bump used to be. No props are needed. Just proper lighting and a sweet smile will do the trick.
Babies look like the epitome of peace when they sleep. So much so that even the adults feel jealous of it. Hence, second on our list is the idea of capturing these peaceful slumbers in a simplistic surrounding with neutral tones. The idea also works well since sleeping babies aren't too fussy.
Newborn babies are notoriously adorable for their tinyness. They are so tiny that they can be held in one hand, and they'll barely make it past half of your arm. Everybody adores these tiny bundles of joy, and so one of the best ways to capture their newborn days is by clicking their photos in a handheld position.
Making eye contact is one of the most intimate gestures out there – even more so when you have a strong connection. This newborn photoshoot idea plays with just that and can be done with either the mum or the dad. They just need to hold the baby face to face and keep on their happy smiles in a low light setting.
Since we were on the topic of intimate gestures just now, it's only fair that we mention holding hands. This is a classic idea where the baby holds the parent's hands or fingers. You can capture the baby's face as they do it or click just the hands as well. However, the best way is to show a comparison as to how small the baby's hand is!
Close-up foot images or holding the baby's feet are one of the most sought ideas to announce a newborn's arrival. There are so many ways to carry out this idea, and you only need a short while to click the photos. You can use props or just simply put funny socks or shoes on them to capture these images.
Our bonds with pets are sometimes even stronger than our bonds with blood relatives. Pets are a part of our family, so it's only fair that we include them in our newborn photoshoot ideas. This can be done in a ton of ways, and many even tell stories where the pets protect the baby or just them bond as inter-species siblings.
Since we are on the topic of family, another great idea is to do a family photoshoot with the newborn. No matter how big or small your family is, the main idea is to put the spotlight on your newborn while the rest of the family stays within the frame. The aim of this photoshoot is to show family bonds.
Babies are already adorable as they are. However, one thing that makes them even cuter is animal ears. This can be banded with cat ears or dog ears and even woolen hats with bear ears. It's even better if pets are used in the shoot to showcase similarities and can be done in minimalist or colorful settings.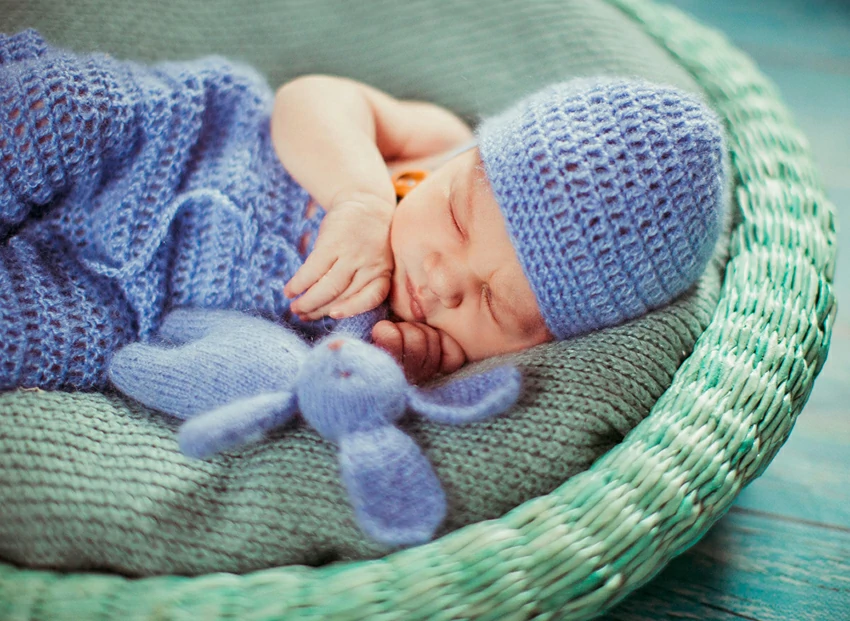 Tenth on our list is another classic idea of keeping the baby in a fruit basket or a crate. Other props such as faux fur, fairy lights, and wings can make this photoshoot idea even better. You can literally do almost anything with baskets – they're just too versatile. So go ahead and click your take on the baby in basket idea any way you want!
Flowers mean so many things when you interpret their language. Giving flowers is also customary in many cultures when you go see a newborn. However, our idea is to buy some meaningful flowers that convey the messages of innocence and new life and use them as props for your newborn photoshoot.
Suggested Article: Flower and Pant Photography.
If you are into anime or any kind of cartoons, we are sure that the idea of cosplay will blow your mind. So, you can take this chance to create stunning baby cosplays, and with your baby that you can also take part as another character. It is a fun idea that'll make the photoshoot even more memorable.
Another idea with flowers is that you create some unique flower crowns and use those as props for your newborn photoshoot. You can also pair these floral headpieces with a toga for your baby to add a Greek touch. This idea works well in settings that have a mixture of whites, gold, and earthy tones.
Another idea that has a ton of potential is to go ahead with a fantasy-themed newborn photoshoot. There are way too many options to do this, and it will bring out concepts such as childhood nostalgia for both the baby and the parents when they look back on the photos. Baby fairy or Santa is a good option here.
As magical as it is having a newborn, having their first anything gives out the same feeling. Even if it doesn't snow in your region, there are plenty less cold ways to create the magical first snow for your newborn and capture those moments with the help of a newborn photoshoot. You can add props or just capture your baby's expression with the snow.
Plushies or soft toys are your baby's friends. Even newborns have favorite toys, and they are a big part of their childhood. That said, capturing them while they are surrounded by plushies makes for a good photoshoot idea. It showcases childhood joy and makes for a rather happy-themed photoshoot.
Another idea for newborn photoshoots is using the parent's wedding rings as props to click the images. It can be carried out by letting the baby hold onto these rings in a minimalist setting. You can even announce the arrival of your baby using these photoshoots, and if you and your partner haven't tied the bond yet, you can use anything that has significance to your relationship.
Posters can add a comical touch to your newborn photoshoot and make it a fun memory to look back on. You can use marvel posters or any poster of your favorite band to use as props. That, along with poses, makes it an even better idea. For instance, you can put a batman costume on your baby and add a poster of Gotham City as the background.
The stats of your body when you are a newborn are often memorable for your parents. So, if you have a newborn, a fun way to keep track of those stats is to use them as props. Simply put your baby on the bed and show the stats using scales, written notes, and more to indicate the stats in your captured images.
Another great idea to carry out a newborn photoshoot is that you use seasonal props to come up with the most adorable newborn photos. You can even relate the themes to the season that the baby was born in, such as pumpkins for fall, beach vibes for summer, mittens for winter, and flowers for spring.
Rainbows and sunshine go really well with the innocence that babies exude. Rainbow-themed newborn photoshoot ideas are almost surreal and have a fun pop of color if carried out well. You can use prisms to create rainbow effects or even use posters or toys that highlight the colors of the rainbow. It's even better if you are an LGBT+ couple.
To Conclude
Taking photos of babies can be one of the most rewarding parts of the process, but it can also be a difficult task. With a limited attention span and the desire to wiggle free, newborns are perhaps one of the most difficult types of photography to capture. As such, they're not always appreciated by a large market. There may not be many that appreciate these images, but there's no denying that they have an artistic quality that many photographers take great joy in creating and viewing.
In this article, we tried to focus on some professional tricks from posing ideas to workflow tips. These newborn photography ideas will set the groundwork so you can create killer newborn photos like a pro.