Are you tired of staring at the same old boring wallpaper on your phone or computer screen? Are you looking to add some personality and style to your digital devices? Look no further than free aesthetic wallpapers! This is undoubtedly a popular way to add some visual appeal to your device while also reflecting your personal style. From minimalistic designs to vintage-inspired images, there are endless options to choose from.
In this article, we'll explore the different types of aesthetic pictures, and where to find them for free. We'll also provide you with a list of our top favorite aesthetic wallpapers for you. Before touching on the key point, you may learn about aesthetic photography along with some crucial tips to enhance photography skills in this genre.
Types of Aesthetic Wallpapers
There are various types of aesthetic photos you can pick from, each with its own unique style and sensation. Here are some popular categories below:
Minimalistic: Minimalistic wallpapers are simple, sleek, and often feature clean lines and geometric shapes. They're ideal for those who prefer a more subtle and understated aesthetic.
Nature: Nature photos feature wonderful landscapes, scenic views, and natural elements like flowers, trees, and animals. This type suits those who love the outdoors and wish to bring a touch of nature into their digital devices.
Grunge: Grunge wallpapers feature gritty textures, distressed patterns, and edgy designs. Users pick these wallpapers who love a more raw and rebellious aesthetic.
Abstract: Abstract wallpapers feature bold colors, unique shapes, and visionary designs. Artists and creative thinking through minds love to keep these pictures on their digital devices.
Vintage: Vintage pictures feature nostalgic pictures, retro colors, and classic designs. Some people love vintage things and want to add a touch of old-school charm to their digital devices. This is surely for them.
Free Aesthetic Pictures to Use as Wallpapers
Here are some free aesthetic wallpapers for your desktop and smartphone. Right-click on each image and click 'save image as' to download. 
1. Mug of warm coffee with books
On a bed, a mug of warm coffee with open/closed books gives a cozy feeling. Our first wallpaper in the list can be a great aesthetic wallpaper for your smartphone. 
2. Ballet shoes, music sheets, and a violin
This wallpaper has a lovely combination of ballet shoes, music sheets, and a violin. If you are a music lover, then this beautiful piece is for you! 
3. Renaissance paintings and sculptures
The Renaissance era is well-known as an era of prosperity. This wallpaper filled with Renaissance paintings, sculptures, and interior design will give you a melancholic and mysterious vibe at a time. 
4. Old castles
Old castles have exquisite interior designs which never fail to amaze us year after year. Try this stunning and sparkling dark aesthetic wallpaper to have a dark academia vibe! 
5. Rainy days at home
Rainy days become cozier when you are at home, sitting on your couch holding a cup of warm drink, and on the outside of your glass window rain droplets are visible. 
6. Bookshelf with a spiral staircase
A big bookshelf with a spiral staircase in front of it – will bring you the Victorian era's feeling. 
7. Vintage house with mountain and heavy fog
Here is another wallpaper that will give you a gothic aesthetic feeling with a mysterious setting. A big iron gate is opened, a big vintage house, heavy fog, and mountains behind – spooky though! 
8. Indoor plants
If you prefer having indoor plants, then this wallpaper is for you. As pots of succulents enhance the beauty of your interior, they can be an amazing display for your desktop too. 
9. Ocean clouds floating in the sky
Waves in the ocean, cool temperature, clouds floating in the sky – sounds refreshing, and will be the same visually too.
10. Man with white flowers
A man with white flowers in his hand covering his face. Each time you switch on your PC, you may feel like your significant other is in front of you. So romantic, isn't it?  
11. Foggy green nature
This green aesthetic wallpaper gives an insanely calm yet melancholic feeling. Also, it can benefit your eyes, since green is scientifically proven as a soothing color. 
12. Green plant on table vase
Sometimes simple, unattended things bring aesthetic vibes better than decorated, carefully planned setups. This wallpaper is for you if you love simplicity. 
13. Urban city with colorful neon lights
Busy streets with colorful neon lights have a different kind of feeling. It feels melancholic yet beautiful, because life is still going on no matter what happens. 
14. Anime, Vaporwave, and Aesthetic
For anime lovers, anime is something more than a cartoon. If you love anime, then this wallpaper will perfectly suit your desktop display. 
15. Sunset city building
Sunset on a beach or in an open setting is surely a thing. But when shadow falls upon a Victorian-styled building, it is another kind of beauty. 
16. Aesthetic vaporware wallpaper
In a frame, a blue wall is divided into two sides – one is empty, another has a tree but covered with a curtain, and a mini flower vase is in front of it. This picture can depict a contradictory meaning also. 
17. Blue clouds with white sky & moon
Have you seen how soft the sky looks at dawn? Such a turquoise tranquility of nature you should not miss at all to set this blue aesthetic wallpaper on your display. 
18. Flowers
Who does not love flowers? This wallpaper filled with colorful peonies and other flowers can cheer you up each time you switch on your desktop. 
19. Nature with Tungsten bulbs
This wallpaper visually represents the mood – like in the evening when nature is getting quiet, you sit outside and enjoy the view, with a string of tungsten bulbs over your head.
20. Two cats
Literally, it is just two cats of different colors lying in opposite directions. Metaphorically, they represent Yin-Yang.
21. B
lue sky and neon lights
No work pressure, no traffic, no busy life, no annoying sound, no worries. Just a silent road under blue sky and neon lights. Sounds so soothing, doesn't it? 
22. Yellow flower tree in spring
This spring aesthetic wallpaper of a yellow flower tree fits the mood of spring. The combination of yellow flowers and green leaves will be quite amusing to the eyes. 
23. Snow in yellow-bluish sky
Winters may seem depressing. But when nature is covered with snow, and the sky is yellow-bluish, it is a rare beauty.
24. Sea creatures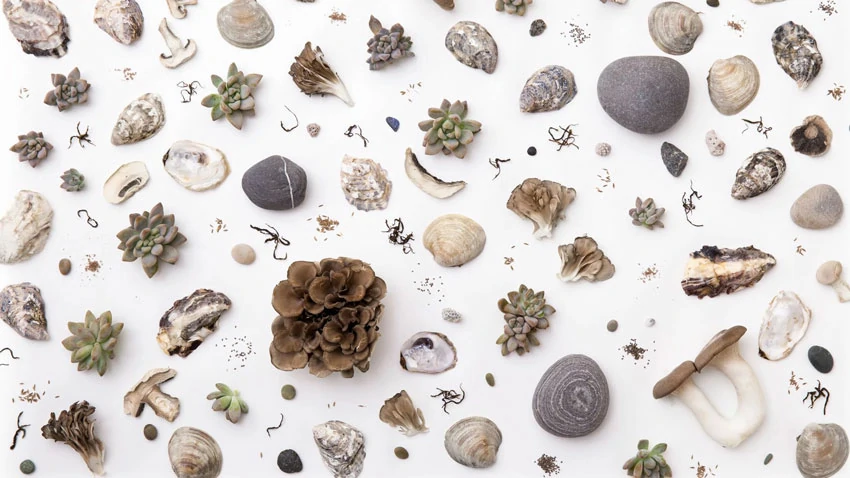 Let's introduce with one of the cute aesthetic wallpapers. It could have been an underwater image. But sea creatures with succulents on a blank white space look cute too. 
25. Merry-go-round on a bright sunny day
Merry-go-round has always been a part of our childhood. A colorful merry-go-round on a bright sunny day can be a great display for your display. 
26. Clean bathroom with teal-colored bricks
A neat and clean bathroom with teal-colored bricks, a bowl, a wooden bench, shiny fittings, and folded washcloths. Such a minimal wallpaper is not bad as a display either. 
27. Abstract paintings
Abstract paintings say a lot. Even if they seem harder to figure out, unplanned strokes can be a good view to enjoy. 
28. Trees and the sun covered in heavy fog
Big trees and the sun are covered in heavy fog – an amazing combination of deep green and white. The photographer who clicked this scene deserves a big round of applause. 
29. Beautiful Cloudy Sky
The sky is filled with stars, clouds, and a half-moon – tranquility at its best. This wallpaper could match your taste if you prefer something simple yet eye-catching. 
30. Sea beach with rocks
If you love sea beach, try setting this wallpaper as the lock screen display. When it is a rear view of waves and rocks, it is more beautiful than straight beach images. 
31. Fluffy white clouds
B-I-G bunches of fluffy white clouds are so pleasing to the eyes. It can be a good example of white aesthetic wallpaper for your device. 
32. Books with Candle Sculptures
On the top of a pedestal, a few books are placed with Anais Man Candle and Venus Candle in white. The whole picture conveys a dreaminess and vintage feeling. 
33. White flowers in teal background
White flowers in the teal background create an outstanding color combo. Here is another beautiful floral wallpaper for your lock screen display. 
34. Blooming sunflowers
Sunflowers and summer go hand in hand. Blooming sunflowers under the bright summer sky are ready to make your lock screen display stunning. 
35. Cottagecore flowers
Cottagecore flowers come in various heights and colors. They will offer a calming aesthetic vibe to your smartphone display. 
36. Blue flowers in Twilight 
At sunset, the sky turns orange-yellowish and the ray meets tiny light blue flowers – totally a golden moment! 
37. Colorful flowers
This wallpaper can be a good lock screen display to try out in summer. Colorful flowers of different types will cheer you up when you feel down. 
38. Purple wisteria
Wanna try an amazing purple aesthetic wallpaper for your device? Wisterias are flowers of magical quality. Try this piece of uncountable purple wisteria to have a stunning locked or unlocked screen display. 
39. Sun shines through flowers
Another beautiful floral wallpaper is here for you. The way the sun shines through the flowers is really breathtaking. 
40. Red roses
A field of deep red roses is gorgeous beyond words. However, such an extremely bright wallpaper may feel uncomfortable to look at sometimes. 
41. Purple petals
If purple is your favorite color, this wallpaper is for you. Lots of purple petals will bring a fantasy, luxurious, and mysterious feel to your display. 
42. Drenched roses
Rain brings softness to nature. Likewise, drenched roses after the rain are pleasing to see and aesthetic. 
43. Shades of pink
Just to know how rich nature is in beauty, you should try this pink aesthetic wallpaper on your device. A lot of shades of pink will amaze you for sure.
44. Disco balls
Usually, disco balls are colorful. However, sparkling disco balls with black and white shades can add fun to your day. 
45. Black & White Vintage image
Black and white images of busy streets bring vintage feelings. Here is another beautiful vintage image for your lock screen display. 
46.
Black & White
 sea beach
A black and white sea beach has another level of beauty. When white waves meet black sands, it feels like they speak a lot of unspoken feelings. 
47. Glittering sands
How will it look when white-golden glittering sands turn black yet the shine remains the same? To know, use this image for your display. 
48. White sparkles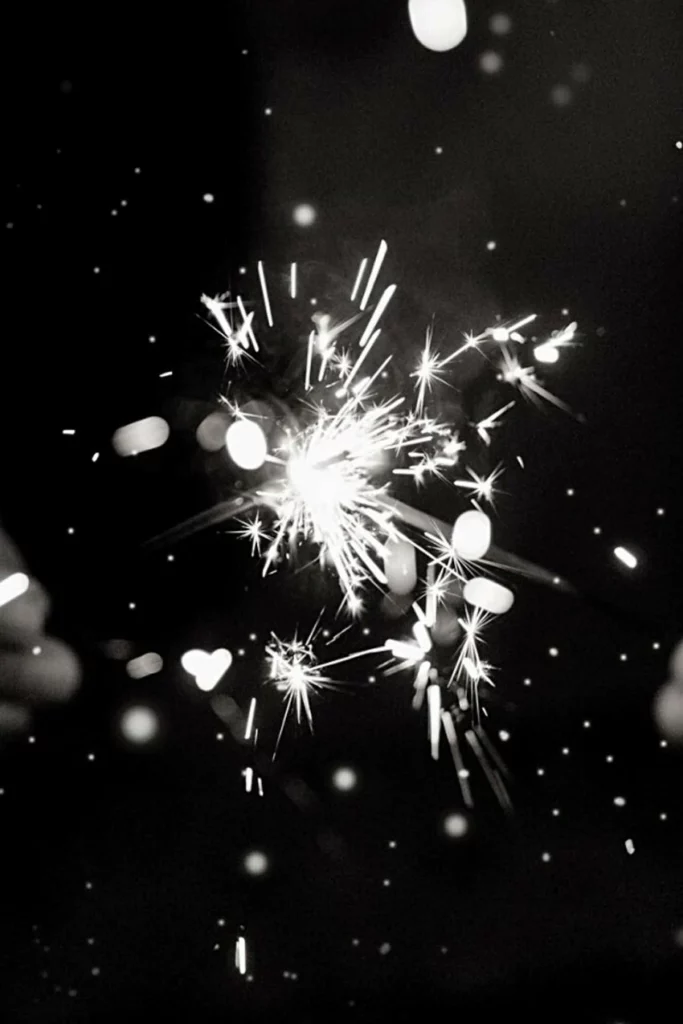 Another dazzling image for your lock screen display. White sparkles on a black background result in a unique image that you would surely like. 
49. Black Rose
Searching for a black aesthetic wallpaper for your smartphone or computer? What can be most appropriate than a black rose? Well! It symbolizes significant changes, negatives mostly. Droplets on a black rose is a juxtaposition – beauty and bad altogether. 
50. Thanks Yourself
We would like to call this wallpaper special. Nature appreciates those who appreciate themselves. Life isn't so easy, so when you feel down, motivate yourself by putting this image on your display. 
Sources of Free Aesthetic Wallpapers
There are a variety of sources where you can find free aesthetic images to avail on your devices. Here are some of the most popular sources:
Wallpaper websites: There are multiple websites that provide free high-quality wallpapers, including aesthetic wallpapers. Some prevalent wallpaper websites are likely WallpaperSafari, Wallpaper Abyss, and Unsplash.
Social media platforms: Social media platforms like Instagram and Pinterest are great places to uncover aesthetic wallpapers. Many artists and designers share their work on these platforms. And you can find a wide variety of styles and designs there.
Mobile applications: Well! There are many mobile applications available that offer free aesthetic wallpapers. Some popular apps include Zedge, Wallpapers HD, and Backgrounds HD.
Online communities: Apart from the above sources, there are also many online communities and forums dedicated to sharing and creating aesthetic wallpapers. Reddit and DeviantArt are two popular platforms where you can find and share wallpapers with other users.
To Conclude
In conclusion, free aesthetic wallpapers are a great way to customize your digital devices and append some visual appeal. With so many types and sources available, you're sure to find the best wallpaper that reflects your personal style. Just make sure to choose high-quality images from reputable sources, and pick the most appropriate ones for your device. So, what are you waiting for? Give your devices a fresh new look with some stunning aesthetic wallpapers today!