Spring is a season of renewal, rejuvenation, and growth. As the weather warms up and flowers begin to bloom, there is a sense of optimism and positivity in the air. This is why Spring Aesthetic wallpapers have become increasingly popular among people looking to add some color and vibrancy to their devices. 
Aesthetic wallpapers are a great way to personalize your device and make it stand out. They can also help enhance your mood and productivity by creating a positive atmosphere. In our previous article, we sorted out some of the amazing aesthetic wallpapers for our audience. You may have a look. 
Suggested Article– How to Take Aesthetic Pictures.
Spring Aesthetic Wallpapers [iPhone, Android, Laptop, etc.]
This article has compiled a shortlist of amazing Spring Aesthetic wallpaper to inspire and help you find the perfect wallpaper for your device. From nature-inspired landscapes to minimalist designs, these spring photoshoots include a variety of styles and colors to suit different preferences. So, whether you're looking to brighten up your phone, tablet, or computer, these wallpapers will surely add freshness and energy to your device. 
1. Pretty twigs with pink flowers 
Introducing a lovely Aesthetic picture featuring pink flowers and twigs. Pink is often associated with femininity and tenderness, making it a perfect color choice for a Spring wallpaper. The combination of flowers and twigs gives the wallpaper a natural and organic feel, which is perfect for adding a touch of nature to your device. The wallpaper also appears to have a soft and muted color palette, which can help to create a calming and serene atmosphere on your device. 
2. Pink sakura flowers blossoming
This spring photoshoot presents a beautiful scene of pink sakura flowers (Japanese Cherry) blossoming during the spring season. The background is a soft, blurred image of trees and greenery, which creates a sense of depth and adds to the overall serene atmosphere of the picture. This picture's soft colors and gentle composition create a sense of calm and tranquility, making it the perfect choice for spring wallpaper. 
3. Cherry tree flowers
The picture depicts a stunning scene of a cherry tree in full bloom, with delicate pink flowers covering the branches. The blossoms are breathtakingly beautiful, with soft pink petals that look almost ethereal against the blue sky in the background. And, the tree is surrounded by green foliage, which adds to the overall lushness of the scene. 
4. Beautiful decoration cute little dried colorful flowers, wallpaper
The picture depicts a beautiful decoration of cute little dried colorful flowers that would make stunning wallpaper. Flowers are arranged in a creative and artistic way, with a mix of bright and pastel colors that create a beautiful contrast against the neutral background. They are small and delicate, with intricate details that add to their beauty. Besides, they are arranged in a way that creates a sense of movement and flow as if they are dancing in the wind. 
5. Blank white floral card design
The wallpaper featuring a blank white floral card design is a beautiful and elegant choice for anyone looking to add a sophisticated touch to their home or office decor. The flowers are depicted in a variety of shapes and sizes, and the overall effect, including the flying bee, is one of understated beauty and grace. 
6. Spring turquoise surface with cherry blossom twigs
The premium photo of a spring turquoise surface with cherry blossom twigs is a stunning and captivating image that captures the beauty of the season. The bright turquoise background provides a striking contrast to the delicate pink cherry blossom twigs, which are depicted in sharp detail and beautiful color. 
7. Cute and stylish family in a spring park
A cute stylish mom-daughter in a spring park is a heartwarming and joyful flower and plant photoshoot that captures the essence of family togetherness and the beauty of the outdoors in the spring season. They are dressed in stylish and coordinated outfits, which adds to the overall aesthetic appeal of the photo. 
8. Mother with child girl playing in blooming spring garden
Another example of a true aesthetic spring picture of the day! The composition of the photo is well done, with the mother and daughter positioned in a natural and relaxed way that enhances the sense of happiness and joy. The use of shallow depth of field creates a beautiful bokeh effect in the background. It adds to the overall aesthetic appeal of the photo. 
9. Twigs with small white flowers of gypsophila babysbreath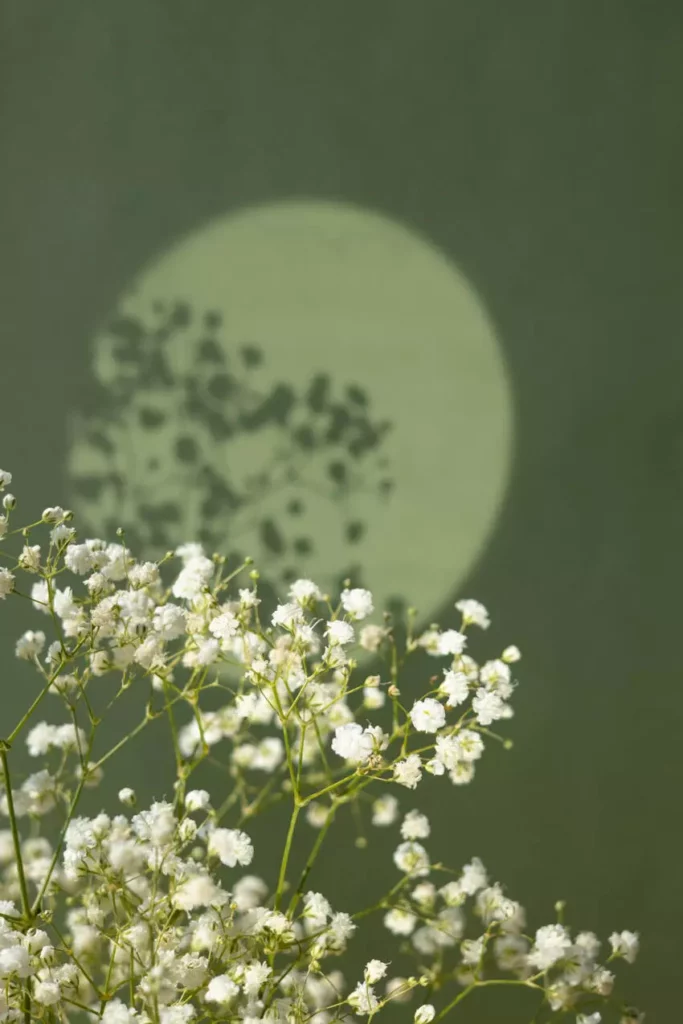 Another lovely photo of a few twigs with small white flowers (Gypsophila Baby's Breath) against a green background is a simple yet stunning image that showcases the delicate beauty of these flowers. The intricate details of the small white flowers are captured in sharp focus, with each individual petal and stamen depicted in beautiful detail. 
10. White flowers with a blurred background
Another stunning image that captures the beauty and intricacy of nature. The white flowers are depicted in sharp focus, with each petal and stamen rendered in intricate detail and precision. It can be an ideal choice to use as wallpaper for your Android, iPhone, and any digital device. 
11. Close-up of yellow flower with bud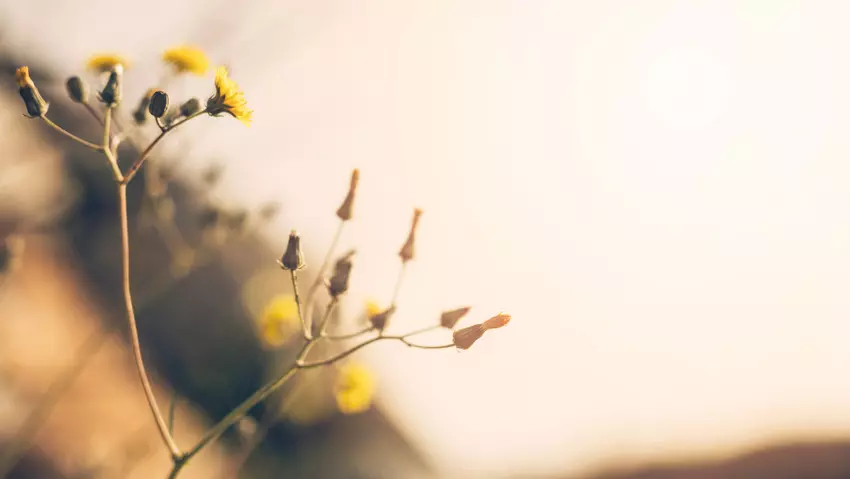 The yellow flower and bud are depicted in sharp focus, with rendered in intricate detail and precision. The blurred background makes it more precise and focused. 
12. Apricot tree blossoms
Behold, a breathtaking scene that captures the essence of springtime in all its glory! A majestic Apricot tree stands tall and proud, adorned in a shimmering coat of delicate white blossoms that dance and sway in the gentle breeze. And, the warm sun casts its golden rays upon the tree, enveloping it in a radiant glow and illuminating every exquisite detail. 
13. Apple orchard spring nature background
Looking closely at this macro photoshoot, you can see the intricate details of the delicate apple blossoms, with their petal-like structure and the hints of green leaves peeking out from behind. The blurred background of the picture adds depth to the image, drawing the viewer's attention toward the apple blossoms in the foreground. 
14. Photo a young girl in a flower field
The picture depicts a beautiful young girl standing in a vibrant flower field, surrounded by a colorful array of flowers. The girl is wearing a long flowing dress that matches the color of the flowers in the field, creating a harmonious and picturesque scene.
15. Bride holding a beautiful bouquet
Another aesthetic spring picture depicts a close-up view of a bride holding a beautiful bouquet of flowers. The bouquet is composed of a variety of colorful blooms, including roses, daisies, and baby's breath, creating a stunning and vibrant display. 
16. Pink cassia or pink shower
The image describes pink Cassia flowers, also known as pink shower flowers, which are a type of flowering plant known for their vibrant pink blooms. The flowers may show full bloom, with visible petals and possibly foliage. Besides, the backdrop of rivers and blue sky may suggest a scenic outdoor setting, potentially depicting the flowers in a natural environment near water, with a clear blue sky in the background.
17. Photo blossoming branch cherry bright colorful spring flowers
The image likely depicts a branch of cherry flowers in full bloom, with vibrant and colorful blossoms. Cherry blossoms are known for their delicate and beautiful appearance and are often associated with the arrival of spring. It may showcase the flowers in their natural setting, with possibly a blurred or out-of-focus background to highlight the blossoms. 
18. Floral flower spring abstract background of cherry blossom flower
The flowers may be in full bloom, showcasing their distinctive pink or white petals against a background. It may evoke a sense of spring, with the cherry blossoms representing the arrival of the season and new beginnings. The overall aesthetic of the image may be artistic and abstract, with a focus on the beauty of the cherry blossom flowers.
19. Pink flowers blossoming apple tree against blurred background
The image likely depicts a branch of an apple tree in bloom with pink flowers. The flowers may be in various stages of blooming, showcasing their vibrant pink color and delicate petals. And, the background may intentionally blur to draw attention to the blossoming flowers on the apple tree. It may convey a sense of spring, with the pink flowers representing the arrival of the season and the beauty of nature in bloom.
20. Beautiful garden flowers blossom tree sakura over blue sky background
The image likely depicts a sakura tree in full bloom, adorned with beautiful flowers in various shades of pink or white. It may be in its peak blooming stage, creating a visually stunning display. The image may showcase the Sakura tree against a blue sky background, adding to the overall beauty and serenity of the scene.
To Conclude
So, spring aesthetic wallpapers are a delightful way to capture the beauty and charm of the spring season. They feature vibrant colors, fresh blooms, and an overall sense of renewal and vitality. And, they can instantly lift one's mood and add a touch of warmth to any device screen, including iPhone, Android, laptop, and PC. Whether it's cherry blossoms in full bloom, fields of tulips, or colorful butterflies fluttering about. They evoke a sense of joy, serenity, and optimism that can brighten up any day. 
These wallpapers are not only visually pleasing but also inspire a sense of connection with nature and the changing seasons, reminding us of the beauty and wonder of the world around us. So, why not adorn your screens with a spring aesthetic wallpaper and let the magic of spring blossom right at your fingertips?