Welcome to a visual journey through the picturesque landscapes of San Diego, where the natural beauty of the region converges harmoniously with human ingenuity. San Diego's rich tapestry of landscapes and cityscapes provides the perfect canvas to freeze time and create lasting memories.
No matter whether you're a seasoned photographer seeking new inspiration or an amateur looking to document your travels. Let's discover the best photo spots in San Diego promises an unforgettable visual experience.
You may also read– Most Beautiful Photography Places in The World. 
1. La Jolla Cove
Nestled along the coastline, La Jolla Cove is a natural masterpiece, known for its stunning coastal beauty, crystalline waters, and intriguing sea caves. This spot is a haven for photographers seeking captivating seascapes and marine life encounters.
Capture mesmerizing sunsets that cast a warm glow on the jagged cliffs, or focus on the dramatic coastline, with waves crashing against the rugged rocks. Don't miss the chance to photograph the resident sea lions and seals lounging on the sun-soaked shores. Also, the glimpse into the underwater world while snorkeling or diving. 
Suggested Article– Best Photo Spots in Las Vegas. 
2. Sunset Cliffs Natural Park
Offering some of the best photo spots in San Diego, Sunset Cliffs Natural Park lives up to its name with breathtaking sunsets. The park boasts rugged terrain, rugged bluffs, and awe-inspiring vistas of the Pacific Ocean.
Photographers flock here to capture the iconic sunsets that paint the sky in a myriad of colors, with the silhouettes of the cliffs enhancing the scene. The crashing waves below create a dynamic backdrop, making this location a must-visit for those seeking stunning seascapes.
3. Torrey Pines State Natural Reserve
For a unique blend of coastal beauty and natural wonders, Torrey Pines State Natural Reserve is unparalleled. The reserve is famous for its rare Torrey pine trees, and its hiking trails offer sweeping views of the coastline from high bluffs.
Capture the distinctive Torrey pine trees against the backdrop of the Pacific Ocean, and explore the diverse flora and fauna that thrive along the reserve's trails. From expansive vistas to intricate close-ups of unique plant life, Torrey Pines provides a rich canvas for nature photographers.
4. Balboa Park
This urban oasis combines architectural grandeur with botanical beauty. Balboa Park is home to Spanish-inspired architecture, vibrant flower gardens, and a wealth of museums and cultural institutions. Photographers will find endless opportunities to capture the ornate architecture, where intricate details and vivid colors abound.
The reflecting pool in front of the Botanical Building offers picture-perfect reflections, and the park's numerous events and exhibitions provide ample subjects for those interested in people and culture photography.
You may also read– Best Photography Places in NYC.
5. Gaslamp Quarter
The Gaslamp Quarter is another of the best photo spots in San Diego filled with Victorian-era architecture, bustling streets, and vibrant nightlife. Photographers seeking to capture the essence of San Diego's urban energy will find ample opportunities here.
Frame the bustling street scenes, including outdoor dining and vibrant storefronts, and don't miss the iconic Gaslamp Quarter sign, an emblem of the neighborhood's historic charm. As night falls, the Gaslamp Quarter truly comes alive, offering excellent opportunities for capturing the city's after-dark allure.
6. Old Town San Diego State Historic Park
Stepping into Old Town San Diego State Historic Park is like taking a journey back in time. This well-preserved area showcases the rich history of San Diego with its preserved historical buildings, lively streets, and colorful Mexican influence.
Photographers will delight in capturing the adobe structures, vibrant displays of Mexican culture, and the bustling ambiance of the park. The park provides a unique opportunity to capture the essence of California's past and offers a glimpse into the region's cultural heritage.
7. San Diego Skyline from Coronado
For a postcard-perfect view of San Diego's iconic skyline, head to Coronado Island. The San Diego skyline from Coronado offers breathtaking panoramic views that include the towering skyscrapers of downtown San Diego and the graceful arc of the Coronado Bridge.
Photographers flock to this spot to capture the cityscape, especially during the golden hours of sunrise or sunset when the warm hues bathe the buildings in a soft glow. It's a quintessential San Diego shot that encapsulates the city's urban allure.
8. USS Midway Museum
The USS Midway Museum provides a unique photographic opportunity that combines military history with an impressive backdrop. Housed within a decommissioned aircraft carrier, this museum offers a chance to explore military aircraft and exhibits while also capturing striking images of naval history.
Photographers can focus on the aircraft and artifacts on display or step outside to capture the massive aircraft carrier itself, set against the backdrop of San Diego's harbor.
9. Cabrillo National Monument
Perched on the tip of the Point Loma Peninsula, Cabrillo National Monument offers an array of captivating photo opportunities. The site features a historic lighthouse, tide pools teeming with marine life, and stunning views of San Diego Bay and the Pacific Ocean.
Capture the historic lighthouse against a backdrop of ocean blues. Explore the fascinating tide pools with their colorful inhabitants, and frame your shots to include panoramic views of the harbor and coastline.
10. Anza-Borrego Desert State Park
A true desert oasis for photographers, Anza-Borrego Desert State Park is renowned for its striking desert landscapes and starry night skies. This vast desert park is a treasure trove of unique photo opportunities, from the otherworldly appearance of the desert wildflowers in bloom to the rugged canyons and sandstone formations.
When night falls, the park becomes a stargazer's paradise, offering a chance to capture the Milky Way and celestial wonders above the expansive desert horizon.
11. Balboa Park's Botanical Building
Within the expansive Balboa Park, the Botanical Building stands out as a stunning photographic subject. This iconic structure houses a remarkable collection of exotic plants and features a tranquil reflecting pool in front. Photographers can capture the intricate details of plant life, such as vibrant orchids and lush ferns, set against the backdrop of the elegant architecture.
Reflection shots in the calm waters of the pool, especially during early morning or late afternoon light, create enchanting compositions that highlight the beauty of nature and human design.
12. Mission Trails Regional Park
Nature enthusiasts and photographers alike will find ample opportunities for exploration and image-making at Mission Trails Regional Park. The park boasts a network of hiking trails that wind through rugged terrain, offering captivating scenes of native flora and fauna.
Capture the vibrant colors of wildflowers in bloom, the majesty of ancient oak trees, and the wildlife that thrives in this natural sanctuary. Whether you're seeking sweeping panoramas from elevated vantage points or close-ups of the park's ecological wonders, Mission Trails Regional Park provides a diverse canvas for nature photography.
13. Mount Soledad
For 360-degree views of San Diego and a poignant tribute, Mount Soledad is an excellent choice. This hilltop location features a Veterans Memorial Cross and a panoramic viewpoint that provides breathtaking vistas of the city, coastline, and surrounding areas.
Photographers can frame their shots to capture the expansive cityscape, including La Jolla, Pacific Beach, and downtown San Diego. The memorial itself offers opportunities for poignant and respectful photography, especially during golden hours when the warm sunlight bathes the area.
14. Windansea Beach
Windansea Beach is a hidden gem among San Diego's coastline, known for its dramatic rocky terrain and unique surf culture. Photographers flock to this spot to capture the rugged beauty of the rocky shoreline, with waves crashing against the iconic surf shack.
The rocky outcrops and tide pools provide intriguing subjects for coastal photography. The beach's natural arch, known as the "Princess Street Bridge," offers a unique frame for capturing the sea and sky.
15. Salk Institute for Biological Studies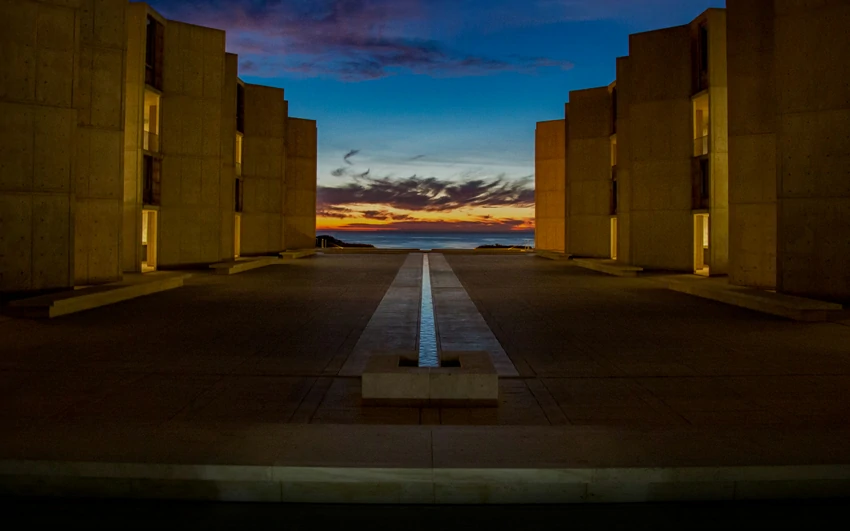 Architectural enthusiasts will find the Salk Institute for Biological Studies to be a masterpiece of modern design. The symmetrical structures, reflecting pools, and minimalist aesthetic create a striking visual composition that's a delight for photographers.
Capture the interplay of light and shadow in the institute's courtyard, the precision of its architectural elements, and the sense of symmetry that defines this iconic scientific research facility.
16. Little Italy
Once again, Little Italy in San Diego is one of the best photo spots in San Diego known for its colorful streets, lively markets, and delectable cuisine. Photographers will find this area to be a rich source of visual inspiration. Capture the charming atmosphere of the neighborhood with shots of bustling markets, sidewalk cafes, and energetic street scenes.
Don't miss the opportunity to photograph the vivid street art that adorns the area, adding an artistic flair to your shots. Little Italy's distinct character and Italian charm provide a wonderful backdrop for street and cultural photography.
17. Liberty Public Market
Liberty Public Market, located within Liberty Station, is a paradise for foodies and photographers alike. This artisanal market is a treasure trove of gourmet delights, from freshly baked pastries to exotic international cuisine. Capture the mouthwatering displays of food and the lively atmosphere as visitors indulge in culinary delights.
The market's rustic aesthetics, with its exposed beams and industrial design, create an appealing backdrop for food photography and candid shots of patrons savoring their meals.
18. The Headquarters at Seaport Village
The Headquarters at Seaport Village is a waterfront dining and shopping destination nestled in a historic setting. Photographers will appreciate the blend of old-world charm and modern amenities. Capture the waterfront dining experience with shots of diners enjoying their meals against the backdrop of the harbor.
The historical architecture offers a unique architectural charm that's perfect for architectural and street photography. The scenic views of the waterfront, sailboats, and palm trees add to the visual appeal of this location.
19. Mission Beach Boardwalk
Mission Beach Boardwalk is the epitome of classic California beach culture. And it's a prime spot for capturing the essence of coastal living. Photographers can document the lively boardwalk scenes, with cyclists, skateboarders, and beachgoers enjoying the sun and surf.
Candid shots of people at play, roller coasters at Belmont Park, and colorful beachfront cottages make for captivating compositions. The long stretches of sandy beach and iconic beachfront amusement park provide a wealth of photographic opportunities.
20. Pacific Beach Crystal Pier
The Pacific Beach Crystal Pier is an iconic San Diego landmark that extends over the Pacific Ocean. Photographers flock to this location for its scenic charm and the opportunity to capture the pier's timeless allure. Frame shots of the pier extend into the ocean, with the waves crashing below.
And take advantage of the stunning sunsets for breathtaking images. The Pacific Beach area itself, with its beachfront cafes and surf culture, adds an additional layer of visual interest for photographers.
21. San Diego Zoo Safari Park
For a unique wildlife photography experience, the San Diego Zoo Safari Park offers a remarkable opportunity to capture exotic animals in a naturalistic habitat. Photographers can document the majestic creatures that call this park home, from big cats and giraffes to rhinos and cheetahs.
The park's expansive landscapes and carefully designed enclosures create an immersive setting for wildlife photography. Don't forget to visit during feeding times or special animal encounters for the best chances to capture memorable shots.
You may also read– Best Places to Take Pictures in Tokyo. 
To Conclude
Our journey through San Diego's best photo spots concludes with a vibrant tapestry of visual delights. Whether you're an experienced photographer or just love taking pictures, San Diego has something for you. Photography isn't just about pictures; it's about storytelling and preserving memories. San Diego's beauty is waiting to be shared and remembered. So, grab your camera, embrace the adventure, and let these spots paint your visual tales of this remarkable city.