For various reasons, it becomes needed to change hair color of images, especially of the portrait hair color. Again sometimes, you may need to colorize image hair to make the portrait images matching with the digital makeup. Your clients may ask to edit hair color so that he can use model images for different uses. Now, our question is "Are you a professional photo editor?" if you say 'YES', then you should have known the technique. But, if you are a beginner image editing person, you should know how to change hair color in Photoshop along with digital airbrushing.
Hair colorization or digital make over is the technique of model photo retouching. It helps retouching images to transform them ordinary to outstanding images. Often, for the shortage of time and facilities, the photographers are to take product model images hastily and later they take image retouching services.
However, this is a tutorial about digital hair colorization in Photoshop. If you go through the entire content, you can learn unique, but easy way of hair highlighting with matching color.
Step 1– Open a model portrait image in Photoshop. Be sure, your hairy model image has a contrasting background.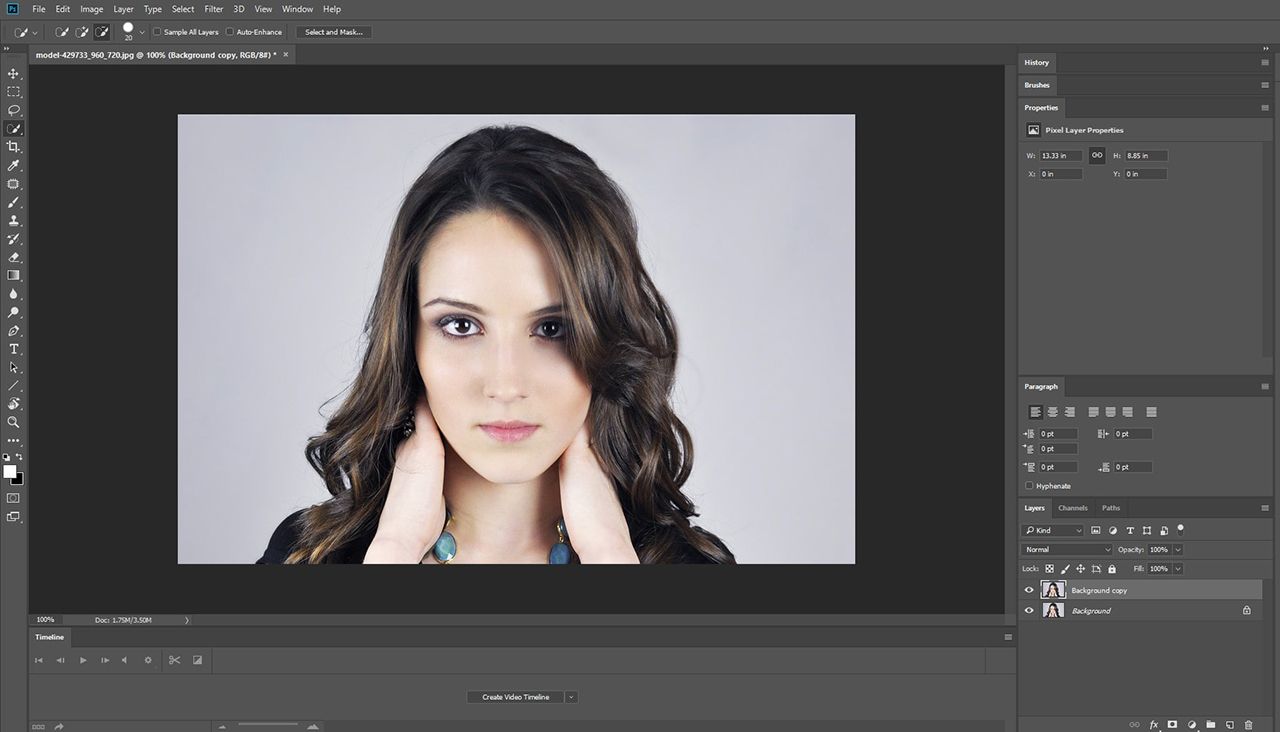 Step 2– Duplicate the layer and hide the first layer. Apply the hair colorization method on the 2nd layer.
Step 3– Select the hair portion and copy it. Then take a new layer and paste on it.
Step 4– keep selected the new layer and go to Image from the top bar. Click on the Adjustment and select the Hue/Saturation. By moving the slides of the H/S, you can change the hair color. But this the easiest and unprofessional way.
Now we are going to discuss the professional way that the image retouching experts use to color model hair.
Do model hair selection in Photoshop as we discussed above and after that, maintain the following steps.
Step 5– On the new layer created in the step 3, apply gradient color. Choose gradient color from the gradient color palate and apply.
Step 6– Apply Overlay mode on the same layer. The gradient color will get blended and seems you have got the color you wanted, still one step is left.
Step 7- Decrease the opacity of the same layer as you need to get perfection.
Step 8– Use the soft Eraser tool to make the edge soft and balanced with main model image. That's it. If you follow the steps, we assure, you must get the desired result- hair color effect.
However, there are many other ways to make hair colored. The graphic design experts utilize the different hair colorization systems. We have discussed here the two easiest ways. You can try other advanced model hair color techniques under glamor photo retouching.
If you try to colorize hair DIY at home, you can do. But if you cannot get the quality hair color as your client demands, we are recommending to knock us. We can work for you as a collaborator.
We are a photo editing service provider. Our worldwide customers has been receiving all types of image editing and retouching, video editing and motion graphics, and 3D modelling services at the most competitive prices. Our production house is well equipped with the latest image manipulation tools and gears. More than 250 experienced photo editing personnel has been working at our company. Though we USA based company, our production is situated in Bangladesh and another corporate house is in Dubai.
If you send us work, you will get 24/7 hours customer support from our most responsive customer service department. Anytime you can contact us to get answer of your every query related to the image manipulation services, prices, work progress and deadlines.
If you really need any of the photo editing services, contact us or to get price related information, send us free quote. Simple.