Your past sweet memory on your photo. If your photos wasn't safe, then already it damaged. So your sweet dreams are going to damage day by day. You want to get back your photos. But how? It is Photo Restoration. Photo Restoration is a service of restoring a photo that has already  been damaged by climate/nature or man-made cause. It's one of a Photoshop technique.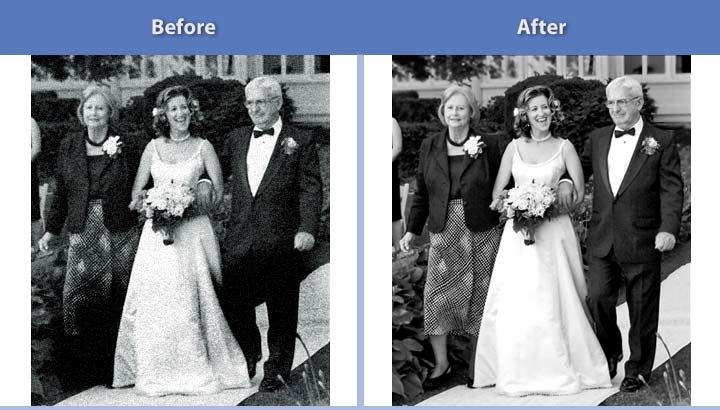 By the help of computer and graphic software, most of the damaged images or photos can be repaired. Digital image restoration is a photo editing techniques to remove aging effects from photos. Graphic editors are basically used to repair the photos and ad photos where are torn/missing.
Photo restoration is a highly experienced work. By photo restoration, anyone can get broken photos to original, unclear photos to original, fired photos to original, or half photos to original. Photo restoration mainly very needed  for photographers. All photographers are not this works own. They give this works to other person for complete.
So you can choose the best service company for your photo restoration service online. Many online company and firms do this job. They just offer on very cheap. But professional photographers charge is very high.
Photoshop is a gold standard photo editing software. Photo restoration is very painful and expensive task. But Clipping Path India does this work very carefully by their experience graphic team.
If your images are highly damaged, digital photo restoration service can re-create photos as your previous photos. If your photos have been damaged by fire or water, an expert photo restore personnel can make it look like original. Most photos are customized by remove backgrounds, color effects and objects.
Photo restoration service is not cheap. Its charge is little high. But it depends on damaged photos. So please look up many companies previous works or you can give them a trial work. If they do better than you can choose them for your service.
Nowadays, have digital technology and equipment. Many companies also offering photo restoration services on minimum cost. Clipping Path India is one of the world wide company. They have strong graphic team for supply quality works. Please visit our website for more details and look up our  Free Trail.