[Updated on August 2022]
Product photography is important for all modern businesses, including online business sectors. In ecommerce sector, you cannot touch products directly before buying. The only thing, you can see the product photo and by this means, you have to choose your required product. Ecommerce business growth is much dependent on the use of high-end quality product photos which must present the details of the product. That's why this product image should be taken at the studio properly keeping in mind ecommerce adaptability.
For shooting quality product photos, great photographers use a lot of gear. They never compromise with quality, so they do, what shooting high-quality photos requires. They use cheap and high-rated gadgets which are convenient for product photography.
Essential Product Photography Gears
For the photographers (even if you are a new photographer) anyway, we are going to describe in detail product photography gears. Reading this article, you will know much about various photography gadgets which would be beneficial during shooting.
Camera
Camera is the most important and fundamental thing for photo shooting. Honestly, a high-quality camera is good for this task, yet we want to say you should not be crazy. Just concentrate on product photography with whatever you have. It may be an old camera or you can just your smartphone.
DSLR Camera
If you don't have a DSLR, no problem, you can carry on product photography using smartphones. But, if it is possible to afford and you want to buy a DSLR camera, honestly, we have something to make you know about what things you should follow during purchasing.
Check camera you suppose to buy, whether it offers the RAW option or not. This option can provide you with the best image quality, high bit depth, and all creative controls. Still, there are many low-rated cameras that cannot shoot RAW and you cannot get enough scope for editing.
Then concentrate on the lens. Most cameras offer a default kit lens that fits for family photography, but for professional product photography, you have to upgrade your lens. You should also check out the aperture, shutter speed, white balance, and exposure. These options are set automatically in a DSLR and you can also manually set them. These features make your product photos extraordinary.
Wide Angle Camera
 If you want to capture a photo of a big construction or landscape perfectly at full length, then you should use a wide-angle camera. Such a wide-angle camera means a closer focal length. For taking a telephoto, most lenses offer 24mm or 28mm equivalent wide focal length which is pretty suitable. But, these lenses are not enough that's why you may need a super-wide-angle camera that can shoot a clearer and more proper perspective of a big object photo.
Smart Phone
Suppose you don't have a DSLR or you cannot afford it right now, then what if, do you leave photography? No, you can do the job done using smartphone that you have. If you have an iPhone, it can be the best part of your product photography business. You have to just think about camera apps that shoot RAW which is uncompressed and editable. You also need suitable lens kit that will give you DSLR-like features. If you have a little bit of experience with smartphone photo shooting, you will be capable to take professional product photos with an iOS 10.
iPhone X
If you have an iPhone X, you can carry on your product photography with fantastic quality. As this version of iPhone has DSLR-like camera features like autofocus, wide angle panorama, telephoto lens, quality ISO, aperture, and shutter speed, you can shoot high-end quality photos of your products DIY at home. Just create a product photography environment using lighting, lightbox, etc., and shoot the best product photo.
Lighting
Lighting is used to focus the product images properly. Different lights are used, but most of the time white lights are applied. It is also the key factor in capturing professional photos. It not only determines brightness & darkness, but also mood, tone, shadow, and atmosphere. Lighting includes skillful positioning, light shaping and manipulating, etc. Many great images suffer from proper lighting and that is why they don't get engaged.
Flash
It is another important thing for product photography. To shoot at a small aperture you need more light to retain the maximum image quality. If you usually shoot at ISO 100 and f11, you may require a lot of light. If you think of consistent color and high-end image quality, then you should have extra flash (flash duration-t.1 time) with some constant lights. It will make your product clearer and more suitable for online shops.
Lighting kit
For having shadow-less proper light, you have to use some extra photography lighting kit. Some of them are collapsible multi-disc light reflectors, continuous LED portable light lamps, thin LCD bi-color dimmable light panels, socket lamp heads, adjustable fluorescent ring lights, and many more. These awesome kits will help to shoot great quality product photography.
Lightbox
A lightbox for product photography is a very useful thing. It helps for lighting around the product properly. This box acts as a portable mini photo studio in a small size and provides high-quality product photos. A lightbox usually is white on its three walls, the top and bottom are also white, and the front part is open that making the lighting process easier. This tabletop studio removes tension to decorate a whole room and it is also cost-effective. There are lots of brands of product photography lightbox kits available in the market. You have to just choose the convenient one that goes with your ecommerce product photography.
Softboxes
It is another useful lighting kit that diffuses light to bring a soft lighting effect. It actually confines light from a lamp and releases through a translucent fabric which scatters light on the product softly and creates a cool effect. It increases the glamour of the product image.
Diffuser Disc Panel
Diffuser panel is important to bring out soft light from the softboxes. It should be collapsible for portability. Its fabric must be translucent like muslin.
Light Tent
It is almost the same as the lightbox in serving its purpose. It is also in fact a box wrapped with thin fabric so that light can enter from outside. It is created with translucent sides that diffuse light from different sides. Against a solid background, it can produce shadow-less lighting around the product you put inside this tent. You can buy a tent for product photography from the market. You can also make a DIY light tent at home using bulbs, stands, board or hard sheet, thin fabric, etc. Buy or make a tent just according to your product photography requirement.
Light stands
Light stand is one of the most used things in studio photography. It is necessary for positioning lights properly. Usually, several light stands are used in a studio for providing lights on the products from various angles so that the product comes to view in detail without any black shade.
Lens
Good lenses are so much important to serve your purposes. Photography mostly depends on the use of a proper lenses in every situation. Commercial shutterbugs understand well the features of the lenses. While buying lenses, you have to concentrate on a feature of focal length that determines how close images you want to shoot, and f-stop that how wide the aperture you can open. So, for a professional photographer, you have to choose the best photographic lenses. You should have more than one lens available with you so that in different situations you can use suitable and appropriate lenses for shooting better photos.
There are some other lenses that you must like and make your photography profession fun & easier. Such as-
35mm
35MM lens can be your best photography partner. It can be used for versatile tasks. What will make you a lover of this lens are its focal length, video-making features, suitable for best capture and any environment, low light performance and interaction, wide angle constraint, size, weight, compact types, and most importantly versatile usages? You can use this lens for any shoot such as landscapes, portraits, travel shots, macro photography, real estate photography, ecommerce product photography, and many more. Its amazing zooming capacity enables you to shoot extraordinary images.
50mm
This lens is best for capturing stories. It can perform well overhead and flat lays position. It can also shoot great images in low light due to its large aperture. Its budget is affordable and you must be elated to have such a stylish lens.
60mm
It is great for macro shots. It is also capable of flat lays and overhead. It has cropped sensors and it is also close to 50mm with macro capabilities. Such a lens is very convenient for product photography.
85-90mm Tilt-shift
It is another fantastic lens that is great for tight crops, 45-degree angle, mix blur, clear focus, subject position, and great control. The lens also can be one of the most important parts of your photography profession.
90-105mm
This lens is perfect for macro photography and it is featured with tight crops, macro shots, 45-degree angles, full frames, and many more. You can have this lens for shooting any product photo.
Reverse Lens Ring
It may be one of the most useful tools for photography. If you have a lens that let you zoom product image, you can use the same lens by reversing it to shoot macro photographs just using the reverse lens ring. This ring will enable you to attach the front part of the lens to the body of the camera and vice-versa. Thus, you can shoot macro and big-size zoomed images using the same lens that you have.
Accessories
Globally recognized photographers use a lot of accessories to bring out the best output from their profession. Various types of photographers such as product photographers, nature photographers, etc. use different accessories which will add extra quality to your image. Let's head over the things that you need to be a professional shutterbug.
Focusing on Rail or Slider
A focusing rail slider is a great part of close-up or macro photography. It also plays a significant role in focus stacking. While shooting photos of tiny products or insects, you require to move camera up and down or left and right for focus stacking properly. If you go to move the camera manually by hand, it may get shaken effects that would harm the pro quality. Besides, properly focusing on every part of a tiny thing is impossible with a camera in hand. To fix this problem, in such cases, it is the best way to use a focusing rail or slider.
Automated Turntable
It is also an important gear that can add extra features to your photography profession. This kind of table helps to create a 3D or 360°packshot of product image. It moves automatically and will rotate the product 360° which will help you to shoot product images from every angle. You need not move your camera around the product rather, the automated turntable will rotate the product and you can shoot every part.
Tripod
If you want to capture professional images, you have to buy a suitable tripod for photography. In different situations and environments, you have to shoot and in these cases, if you use your camera by hand, images may get shaky effects. A shaky image is not suitable for use anywhere for commercial purposes. You also cannot use these images personally. So, you need to have at least one tripod with you to shoot outstanding photos.
Glass table
Shadow provides a realistic view of the product images. For having a realistic reflection shadow of the ecommerce product images, you need a glass table. It will reflect your product on its surface and while shooting, you will have a natural reflection shadow.
Mirror
Many product photographers use mirrors during capturing photos to have realistic product shadows. It helps to have a nice reflection shadow. Often translucent shadow is created using glass. For many other special shadow effects, you can use a mirror.
White Backdrop
If you use a light box, you don't need to use any white background, but if you set your entire room as studio, you must have a white background. In serving this purpose, you can use a white wall, whiteboard, paper, cork sheet, etc. Any product image gets focused in detail with a white backdrop.
Green Screen
During product photography, many photographers use a green background screen. Such a background provides the advantage of extracting the main object from your image for background editing. It also enables you to add effects and awesome white or another background.
Wired remote shutter release
 It is a useful thing and will add fun to your photography profession. If you are a little lazy photographer, this wire remote shutter will provide ease to shoot photographs. Using this tool you can press the shutter from a remote place.
Umbrella
Umbrella is also a necessary thing for throwing light on the image. An umbrella is attached to the stand and there usually remains more than one port so that you can use more bulbs for more light. Various types of umbrellas are used in a product photography studio and you can buy from the market according to your requirement.
Shooting table
You may require shooting table to keep stand your product. It helps to make closer your product to the camera lens and keeps in focal range.
Clip, Tape, Hanger
To keep your product straight during photo shooting, you may need clips, tape, hunger, etc. It will keep the product shape unchanged. In case of garment items photo shooting, these things are very crucial.
Bounce cards
Bounce cards are especially for lighting properly. These things are kept standing beside the product so that they are highlighted in the details. As bounce cards, you can use a white cock sheet by folding and standing just opposite sides of the light so that light can bounce back to the product.
Convenient room
For creating a suitable product photography studio, you should have a nice and decorated room. If it is white in color, it would be a good place. It should have a big window for enough natural light and air. This room will be well equipped and clean which will offer you a suitable working environment. A convenient photography room is necessary for huge production.
Mannequin
Mannequin is one of the most important and used things that you need to shoot photos of cloth items. During shooting photos of garment items, there is a possibility to get scratched and folding on the dress. Besides, to have a 3D or hollow effect, the shutterbugs use various types of mannequins depending on the variety of dresses. You can also have these mannequins in the market.
Enhancer Liquids
In Jewelry Photography, most photographers use glossy enamel paint over Jewelry to make them look clean & shiny. And in Food Photography, use of Okra (ladies finger) juice, jute leaves juice, and egg white is popular. These liquids make the food look yummy and glossy.
Post Production Service
It is a fact that whatever costlier or dynamic photography gadgets you use, your product photos need photography post-production services to be engaging and glamorous. What images you see on the internet are more or less retouched. Some of them may receive background removal services, object removal services, color correction, Photoshop shadow effects, and many more. Anyway, if you like to retouch DIY at studio, then you should have a computer and some image editing tools. Let's see what you need.
Computer
For product photo editing purposes, you have to have a personal computer of good configuration so that you can use all the necessary tools and software. It should be of high configuration because there is so much photo editing software that needs updated platforms to be installed. Besides, if it is a low-quality computer, it would work slowly. So, you have to buy a suitable one.
4K or Upgraded Monitors
Monitor is an important thing for high-quality post-production service. Low resolution or non-branded backdated monitors should not be used for photographic editing services. Such a low-quality monitor cannot show the proper result of image retouching, color correction, glamour retouching, product photo enhancement, etc. due to its low resolution. So, for doing photography post-production works, you have to use a 4k or upgraded, modern, and branded computer monitor to ensure the best result of product image editing.
Adobe Photoshop
Adobe Photoshop is the most recognized photo editing tool among global graphic editors. You can do any kind of photo editing works with this kit. Here are lots of tools and options that are applied to retouch any image, simple or complex. There is no image that you cannot edit using Photoshop. You can do any kind of change in Photoshop. You can do clipping path, background removal, image masking, ghost mannequin effect, color correction, image restoration, Photoshop shadow effect, and many more. For professional image editing services, there is no alternative to Photoshop. So, you need it.
Adobe Lightroom
Adobe Photoshop Lightroom has dedicated software for light and image exposure correction. You will also get spot removing tool also, but the most important thing is that you can utilize this tool for refining and culling images. It will provide you an advantage to choose the best image from hundreds of images. Lightroom will make this hard task easier.
Pen tablet
It is a wonderful tool for providing high-end quality retouching service. The images have soft edges like model hair images, furry animals or cloth, blankets, and many more. It also helps to skin retouching. This tool actually works as an alternative to the mouse. You cannot use the mouse properly in case of photo soft edge retouching whereas the Pen tablet will give you more advantages.
However, the above-mentioned tools and gears are the most used gears for professional product photography. The photographers do not have any scope to compromise with quality, because the success of their work totally depends on the production of ecommerce quality product photos. So, they use all the updated gears required for their photography.
Photo Editing Console
Many professional product photographers work with many fancy tools, and Photo Editing Console is one of them. For some brand in the market, you can look into Loupedeck, Quick Board 360 by TuneShark, PFixer by Pusher Labs, and Palette Gear. Once you get your hands on these gears, you can feel like a Disc Jockey, if not, a controller in Star Trek Spaceship.
Other Software & Tools
There are many other software that is capable of further product image enhancement. Some of them are automated and some of them work manually. Let's have a look at some product photo post product tools.
Blending & Stitching Software
For photo post-production services, you can use many other tools instead of Photoshop. These tools also perform well for stitching and creating panoramic images. For stitching product images, you have to be careful during capturing images. You have to capture images in the same exposure and perspective. Anyway, we are including here a list of image stitching tools and software.
These tools are very cool and fun to use. Your experience will be enough good and these tools produce satisfactory results.
Mobile Apps
If you shoot product images using mobile, you can do post-production editing works on your mobile using some dedicated apps. If it is simple photo editing, you don't need a PC, rather you can do it by the apps which produce almost the same results like the professional photo editing tools. Here, we are going to include a list of photo editing mobile apps.
 Product photography at home (short list)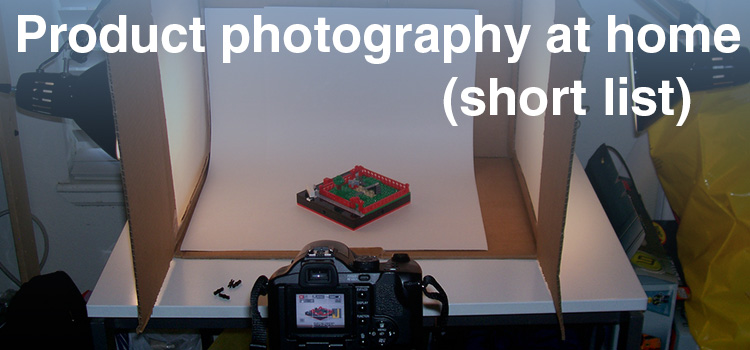 If you want to create a product photography studio at home, you can. In that case, you have to keep in mind certain things that accelerate your success. You should have a complete studio setting suitable and capable of shooting high-quality product photos. Here we're going to provide you with a list of things you need for DIY photo shooting.
Plan and think about budget

Select the right room full of natural lights.

Arrange the right product photography equipment.

Perfect your product photography lighting setup.

Follow various types of Photography techniques.

Edit your photos after production.

Or take photo editing services from other companies.
 Bare minimum list of gears you may need are:
Camera or iPhone X (whatever it is, make sure you can get a great shot in medium lights)

Lightbox (you can also make a homemade one by throw away materials)

Table Lamps (you might have them already)

White backdrop (make sure your dress color does not leak to your photos)

Glass table and white table sheets (for the reflection shadow effects)

Turntable (you also can make it cheap at home)

Mannequin (you also can use human models and remove the body later with Photoshop. Or you can send it to us, we are very specialized in this service)

Adobe Lightroom (Photoshop is for highly professional people, but lightroom is also powerful and quick in serving your purpose)

Amazon Seller App (if you are selling there).